Lavender Soap Bar, Pure Luxury, Stress Relief Soap Bar All Natural Essential Oil Soap Handmade Holistic Organic Body & Skincare, 4 oz
Lavender Soap Bar, Pure Luxury, Stress Relief Soap Bar All Natural Essential Oil Soap Handmade Holistic Organic Body & Skincare, 4 oz
Smells Like: Sweet floral lavender essential oil with herbal notes of balsamic undertones) Wise Oak Soapery has taken a LUXURY and holistic approach to being the very best in ALL NATURAL sensitive skin care. We've created our BEST SELLING all natural lavender handmade soap bar specifically to calm your mind, relax your spirit, and super moisturize your skin. It's light airy & relaxing scent will have your senses captivated, relieve tension of your body and mind. While leaving your skin feeling like you have just visited the spa. But, we will let you decide that for yourself! Our luxury soaps have a lush, creamy, silky lather that will leave your skin so soft...you won't be able to stop talking about your new all natural soap bar. Organic soap safe enough to use on your most private part areas to help eliminate odor and balance your natural pH with out harsh chemicals. Our holistic skincare and body products are all-natural earth derived, sustainably sourced ingredients. Never tested on animals, and you will LOVE our eco-friendly packaging. All of our all natural handmade soap bars are made and cut in small batches the shape and color may slightly vary from the photo. This organic all natural handmade soap bar is made with a blend of coconut oil, sustainable palm oil, olive oil, castor oil, infused with high quality all natural lavender essential oil. Be sure to check out our luxury all natural handmade soaps, yoni soaps, vegan friendly products, shampoos, scrubs & natural balms!
Shipping Policy
Shipping Information and Rates:
We ship all orders via USPS Priority Mail or First Class Mail by weight.
Actual shipping will be calculated at checkout by total weight and size of your order using USPS shipping calculations. All orders include insurance and tracking information.
We use the least amount of packaging possible and always ship using recyclable papers.
Shipping Options
We ship all orders via USPS Priority Mail or First Class Mail by weight.

Returns & Exchanges
Due to the personal nature of our products, we are unable to accept returns. However, if you have an issue with a product, please contact us. We will do what we can to remedy the issue.

Cancellation
You may cancel your order until it has shipped.


Privacy Policy
Our privacy policy can be viewed at https://www.wiseoaksoapery.com/privacy-policy-2/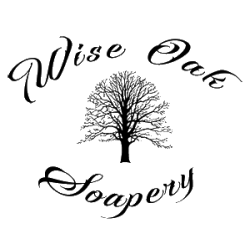 AboutWise Oak Soapery was born out of the realization that traditional skin care products contain toxic ingredients that are harmful to your skin and hair. Although a healthy lifestyle can greatly improve your quality of life and improve your health,...