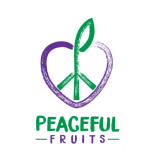 Peaceful Fruits
Add Review
Peaceful Fruits
Who took the fruit out of fruit snacks?

Pretty much everyone. Most "fruit" snacks today have little or no fruit. They're basically sugar and corn syrup. If there's fruit, it's usually concentrate, which strips out healthy fiber and nutrients and adds sugar.

Want fruit and nothing but the fruit? You're gonna love Peaceful Fruits.






Caring about our kids - and ourselves.


The problem isn't snacking, it's the snacks.

Nutrition experts from Mayo Clinic and Cleveland Clinic agree that snacking is important. It keeps our metabolism up, our weight down, and provides important nutrients throughout the day.

But we need to choose good snacks. What tops the list? Fruit.









Portable fruit, good to go.

Ever try carrying a pineapple in your pocket?

Peaceful Fruits makes it easy. Our snacks are a full serving of fruit in a super convenient form. They fit nicely in school lunch bags, backpacks, glove compartments, purses, and desks. Try that with a pineapple!
OUR VALUES

B Corporation

USDA Organic

Non GMO

Vegan

Gluten Free

Sourced Directly From Farmers

Sustainably Harvested

Gluten Free

Vegan

USDA Certified Organic