Lavender Body Balm Stress Relief All Natural Essential Oil Organic Skincare Healing Salve Balms Deep Moisturizer Dry Cracked Skin Itchy Flaky Skin, 3 oz
Lavender Body Balm Stress Relief All Natural Essential Oil Organic Skincare Healing Salve Balms Deep Moisturizer Dry Cracked Skin Itchy Flaky Skin, 3 oz
Lavender is one of those special scents that not only has incredible healing properties, but also seems to evoke beautiful memories too. Wise Oak Lavender Body Balm uses the highest quality, natural ingredients: coconut oil, shea butter, beeswax and pure, essential oil. That's it. There are no hidden nasties like you can find in other products. Just soothing goodness to help support you feel calm, less stressed and relaxed. The moisturizing properties of this product means that it can be used all over your body, wherever and whenever you feel like you need some extra softness. It's also wonderful to moisturize your nails and cuticles. It makes an amazing moisturizing hair balm/perfume. This all-natural, lavender body balm moisturizes deep without disrupting your skin's natural layer of oils. Our lavender body balm will not irritate your skin and will make your skin look and feel nourished.
Shipping Policy
Shipping Information and Rates:
We ship all orders via USPS Priority Mail or First Class Mail by weight.
Actual shipping will be calculated at checkout by total weight and size of your order using USPS shipping calculations. All orders include insurance and tracking information.
We use the least amount of packaging possible and always ship using recyclable papers.
Shipping Options
We ship all orders via USPS Priority Mail or First Class Mail by weight.

Returns & Exchanges
Due to the personal nature of our products, we are unable to accept returns. However, if you have an issue with a product, please contact us. We will do what we can to remedy the issue.

Cancellation
You may cancel your order until it has shipped.


Privacy Policy
Our privacy policy can be viewed at https://www.wiseoaksoapery.com/privacy-policy-2/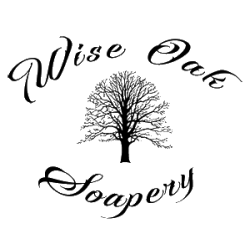 AboutWise Oak Soapery was born out of the realization that traditional skin care products contain toxic ingredients that are harmful to your skin and hair. Although a healthy lifestyle can greatly improve your quality of life and improve your health,...