Plush Toy, Stuffed Animal, Star, Twinkle Twinkle, Nursery, Natural, Handmade, Baby Shower Gift
Plush Toy, Stuffed Animal, Star, Twinkle Twinkle, Nursery, Natural, Handmade, Baby Shower Gift
Star Toy, A Star is Born, Twinkle Twinkle, Waldorf Toy, Eco Kids, Baby Shower Gift, Child, Plush One Star - in your choice of color Ivory, pale yellow, Pink, Blue FEATURED IN STUFFED MAGAZINE, FALL 2014 Celestial Toys Collection Twinkle is sewn from super soft cotton chenille. His (her?) face is organic cotton soft sherpa, that is simply embroidered with cotton embroidery thread. Twinkle is stuffed with wool fleece, making him warm to the touch, almost alive, :). Twinkle measures almost 9" from one tip to tip of star arms. Perfect baby shower gift; first lovey for a newborn. Twinkle does not mind being chewed a bit. Available in light blue, light pink, ivory and pale yellow. Available with Open Eyes, or Starry Eyes. Fully Hand Washable. A Woolies Design. A star is born.
Seller Questions/Answers
Hi! The stars are adorable. Do you sell the moon ones, too? Is there a choice in color?
- Paige Friend
hi - thank you! Yes I do sell the moons - I've just started setting up my shop, my apologies! I'm planning to get all my listings up tomorrow/Friday. Yes - the moons come in ivory and a pale yellow. Thank you again for reaching out! I'll be ready to sell by Friday!! Let me know any additional questions, Thanks, Sara
Shipping Policy



Shipping Options



Returns & Exchanges



Cancellation



Privacy Policy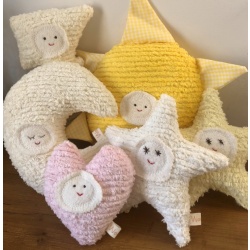 SARA SACKS
8062 English Creek Avenue, Egg Harbor Township, NJ, 08234, US
[email protected]
Woolies are handmade (by me), both knitted and sewn. Pure and natural, truly. I've been creating Woolies for about 20 years. Mission StatementWhat We Believe InOur Location...