Prayer Bead Mala Wood Necklace with Buddha, 108 beads
Prayer Bead Mala Wood Necklace with Buddha, 108 beads
This product is aligned with 6 values
108 Mala Beads Meditation Prayer Beads Wood Necklace with Buddha Using Prayer Beads as a tool of meditation is as old as human history. It is not a coincidence that Prayer Beads are present in almost every culture. Prayer beads have metaphysical and psychological affects on their users. The beads absorb the negative energies. Wood: holds the powers of the breath, teleportation, astral travel, and inspiration. Symbolic of confidence and mental wisdom. Wood teaches us clarity and focus, using our mental gifts wisely and how to best use our intelligence. Our spiritual jewelry is also wearable for your day-to-day events. Each piece of yoga jewelry is designed with traditional methods of minding chakras and gemstone healing. Buddha is a very well known symbol of happiness, wealth, kindness and innocent contented joy. It is believed that by rubbing his tummy each day, which is said to contain much wealth, will bring good luck and prosperity to the owner. Treat him with respect and he will reward you handsomely. This Unisex Spiritual 108 Indonesian Wood Bead Mala has a Silver EP Buddha hang in the centerpiece. About 28 Inch long. Handmade with love in California.
Here we gathered the most Frequently Asked Questions. Should we did not answer yours, please email us at Szilvia@GoghJewelryDesign.com


Q: Can I get my order gift wrapped?
A: Yes. Upon request we can gift wrap items in your order for an $5.00
You will be able to select Gift Wrap at Checkout.


Q: Can I order an item in a different size than it is listed (shorter/ longer)?
A: Yes, just please send us an email with your request and we will be happy to accommodate!


Q: Do you ship internationally?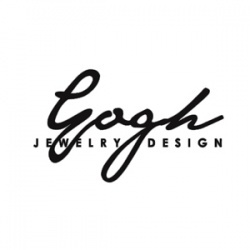 I started my jewelry design business 20 years ago because I love beautiful things, but as an active woman, I couldn't find any silver jewelry that was both meaningful and functional - so I started creating jewelry myself. I wanted to wear jewelry...