Conscious Media Relations Direct Access Path Radio/Podcast Tour
Conscious Media Relations Direct Access Path Radio/Podcast Tour
Here's where you get access to our 9,000 radio shows and podcast, and we write your pitch letter. No where else can you get offered to thousands of radio shows and podcasts that really care about transformational and conscious products, services, books and resources--this easily! In this version, YOU coordinate all your own interviews with the hosts that respond to our compelling pitch letter--sent to them directly from your email address For authors who still want access to this key media segment, but are operating on a limited budget. Here's a look at the "Direct Access Pass" Special Offer: Conscious Media Relations will distribute YOUR pitch to our proprietary, one-of-kind Personal Development Radio Media Tour list. The emailed pitch will come from your email address, and all responses will come back directly to you! We will send the letter twice. That's where our involvement ends. You do the booking, you dialogue with the hosts, you track your own interviews, you follow up to hosts requesting books before they commit to the interviews. We cannot guarantee a specific number of interviews as we do with our Self-Booking Tours, where we make follow up calls. However, we will coach you on the pitch letter to get the very best results. For this exclusive access to this exclusive list, we have created a very special pricing. You can't get access to this powerful group of radio hosts any other way! An extraordinary value! Fee $3,000 Add additional $500 if you would like us to create your media kit!
In our Premium or Self-Booking Versions of Tour, we guarantee 30 interviews booked or your money back!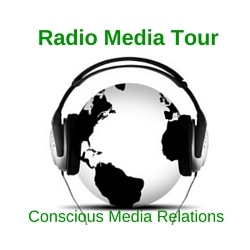 AboutFor nearly 20 years I had a public relations agency with a world class client list, but something else was calling me!I ended up writing two Amazon #1 bestselling books and one was awarded "Best Spiritual Book of the Year" at the Internati...