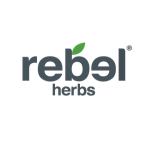 Rebel Herbs, Inc.
We are a brand of powerful herbal formulas and superstar single herbs available through health care professionals and sophisticated natural retailers. We are a family owned business, with a husband and wife team at the helm. We are focused on bringing a powerful new idea to the world, one that embraces the wisdom of ancient Ayurveda and other herbal traditions as well as ultra-modern extraction technology..

Add Review
Rebel Herbs, Inc.
We want to give the world hope, through the use of plants in wise and traditional ways. We seek to combat the ravages of the current environment and the pressures of modern life, by making Ayurveda and the herbal traditions of India more available and acceptable to the US and western medicine.

The Rebel Herbs brand is an extraordinary line of powerful formulas and superstar single herbs made exclusively from herbs and spices that come from certified organic farms or purchased for a fair price from the certified organic cooperative that we helped create and finance. In this way, we can ensure that the products are made from the best plants in the world.

Our proprietary full spectrum process gently extracts the complete array of phytonutrients using a combination of supercritical CO2 and hydrophilic extractions. This process allows us to deliver a complete signature of the herb in its pure but concentrated form. No chemical solvents or high heat is used in the process, ensuring optimal stability and a complete profile of compounds, just as nature intended.

This new dual extraction process allows for better absorption and a more complete and consistent activity in the body. The improved benefits are evident in the clinical trials already done on some of the products and the resulting patents, both US and international patents.

Our formulation strategy calls on an approach that allows even patients and physicians that are not knowledgeable in Ayurveda to benefit. This is a Rasayana approach which means a balanced herbal approach that is beneficial for all body types and is used in a condition-specific way.
OUR VALUES