Country Road Repurposed denim jean pet vest
Country Road Repurposed denim jean pet vest
This product is aligned with 5 values
I hand make my one of a kind Lollypups denim harness vests using re-purposed denim jeans. Most are gender neutral and utilize the denim jean detailing within the design. Due to the nature of the jeans used, no two vests are exactly alike and so are listed separately. The "Country Road " style harness vest uses a small buffalo check, cotton flannel for the neck tabs and lining, giving it added warmth as well as an outdoorsy edge. As with all our vests, it has a woven, fusible interfacing for added firmness. The front placket is triple stitched and is reinforced inside with cotton twill tape for added stability. There's a triple reinforced metal D/ring that falls mid shoulder for your pets' added comfort, keeping pressure off the neck. There's a studded decorative pocket at the back and a leather tag at the bottom right for an added trendy touch. As always, a sturdy 2" wide velcro closure at the belly as well as a 1/2 inch wide velcro closure at the neck, keeps the garment safely secured. Velcro closures at the neck and chest make the garment adjustable by approximately 1 to 2 inches smaller or larger. A snug fit at the chest is recommended. Harness vests are the perfect solution for pets with tracheal problems aggravated by collars that can irritate when leash walking. This garment can be hand or machine washed gentle cycle, lay flat to dry. Touch up iron if needed. Custom sizing is available for denim styles with printed cotton linings. As I acquire more discarded jeans, more sizes and styles will also be posted. Stay tuned. Size Medium measures: Neck 11" - 12" Girth 17" -18" Length of garment- 7" Size Large measures: Neck: 12" -13" Girth: 18"-19" Length of Garment: 7.25"
Shipping Policy
In stock items will ship within 3 days.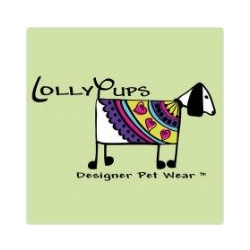 I began creating hand crocheted sweaters for my shivering senior Bichon Frise, the Divine Ms. Lacy who at 10 pounds, couldn't handle the cold New York winters. Lacy also suffered from tracheal collapse, a condition common to many small dog breeds, an...