Rosemary Tea Tree Facial Soap
Rosemary Tea Tree Facial Soap
This product is aligned with 4 values
Organic Vitamin E and Aloe Vera are combined to provide a soothing refreshing cleanse that is wonderful for the face. Rosemary and Tea Tree essential oils are added benefits for a refreshing face wash. Ingredients: Olive Oil, Coconut Oil, Filtered Water, Shea Butter. Sodium Hydroxide. Organic Aloe Vera. Rosemary & Tea Tree Essential Oils. Organic Vitamin E. These soaps are made in small batches and cut by hand which may result in slight variations with each bar. Minimum size of each bar when cut is 4.25 oz.
Shipping Policy

We try to ship orders as soon as possible - typically within 3 business days. If there will be an extended delay, we will contact you.
Shipping Options

We offer FREE SHIPPING through the United States Postal Service (USPS) to deliver our orders. Red Bird Natural Soap covers the cost of shipping.

Returns & Exchanges
Due to the nature of these products, all sales are final. However, if you are not completely satisfied with your purchase, please contact us with your concerns so that we can make it right. We strive to give our customers a quality product that exceeds expectations.

Cancellation
If an order needs to be cancelled, please notify me as soon as possible. Once orders are shipped, they cannot be cancelled.


Privacy Policy
This policy covers how we use your personal information. We take your privacy SERIOUSLY and will take all measures to protect your personal information.
What Information Do We Collect?

We only collect information that is relevant to your order. This includes your:
Billing Address
Shipping Address
Email Address
Credit Card Information
How Is My Information Used?
Your information is only used to fill your order. We do not sell or redistribute your information to ANYONE.
Security and Storage

Only your order data, billing, shipping, and order contents data is stored on our server. This information is encrypted using a Secure Sockets Layer before it is transmitted over a web server. We do not store your Credit Card data.
Cookies and Browser Information

Cookies are small files that reside on your computer and allow us to recognize you on your next visit or store your shopping cart contents. We use them only to track this information.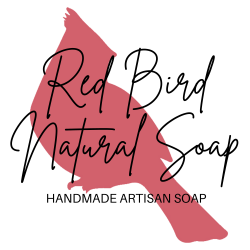 AboutRed Bird Natural Soap began to take shape in 2012 when my sister-in-law, Lisa was diagnosed with a rare form of cancer. From her desire to seek alternative treatments, and the knowledge she obtained and shared with me, I developed a passion to ...