Samara Organic Sparkling Drink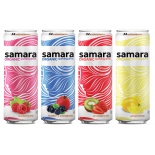 Samara Organic Sparkling Drink
Add Review
Samara Organic Sparkling Drink
Sip the UnExpected! Samara is your healthier alternative to soda, lightly sweetened with organic maple. Four sparkling fruit flavors, certified organic, EcoKosher and Non-GMO.

When we moved to our small New England town and learned how to tap the maple trees on our land, our love affair with Mother Earth's own sweetener began. But when our kids got older and started asking for soda pop—that's when we discovered the real magic of maple.


Turns out, maple is rich in antioxidants and nutrients. So, we got the idea to make something good for our kids by blending sparkling water, natural flavors and a few drops of our own maple. When blended just right, it brightened the other flavors for a fresh and satisfying taste.


We began selling it at local fairs. Folks couldn't believe our sparkling beverage was 100% sweetened by healthy maple and nothing else! And that's how Samara was born.


Now it's here for you to taste with a host of wonderful new fresh flavors. We hope you'll love it as much as we do. You can serve it to your kids with confidence, because we made it for ours.


Love,


Joe, Sara, Maya & Sam

OUR VALUES
B Corporation
Certification granted to companies which achieve a specific score on an assessment of social/environmental performances.
Certified Kosher
Certification ensuring that the Jewish laws of food consumption and preparation are abided by in a specified product .
Non-GMO Project Verified
A third party verification that certifies a product is free of genetically modified organisms.
USDA Organic
Certification ensuring the organic status of agricultural products.
No Alcohol
Food and beverage created without the presence of alcohol.
No Caffeine
Food and beverage free of psychoactive drug which stimulates the central nervous system.
Low Glycemic
This index measures how ingested carbohydrates affect the glucose levels in the body; Foods and beverages containing very little sugar per serving.
Vegan
Product is completely free of animal products and byproducts.
Vegetarian
Food containing no meat.
Ethically Sourced
Products which are produced without compromising the people who execute the production.
GLOBAL GOOD
We actively work to meet the following UN Sustainable Development Goals:
Good Health
Decent Work And Economic Growth
Responsible Consumption And Production