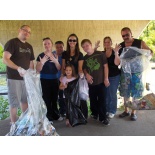 Sammy Walnutts Shop
We know that selling natural body products alongside repurposed and vintage items seems a little unorthodox, but we believe that there is a method to our madness. When you think about healthy choices, less waste, and a new focus on how much we have become a throw away society and the environmental hazards involved in this, it makes perfect sense having such a diverse line of products in one shop.

Add Review
Sammy Walnutts Shop
Sammy Walnutts Shop is a small family run on line store based in Toronto. We are absolutely passionate about – natural products, vintage items, nature, wildlife, history and making things by hand. We are always researching and learning new ways to package our hand made products sustainably, and searching out the best cruelty free and earth friendly ingredients for each product.


Our family and friends are the backbone of our business. From being our testers to giving great advice,






OUR VALUES
Aluminium Free
Cosmetic and personal care products free of aluminum powder, which is used for pigment and thickening products
Dye and Color Additive Free
Food or cosmetic products without dye, pigment, or color enhancing substances
Paraben Free
Products free of parabens, or cosmetic/pharmaceutical preservatives, which have been reported to cause breast cancer, among other issues.
Petroleum Free
Products made without the presence of petroleum, which passes itself off as a moisturizer, but is truly a pore-clogging substance.
Phthalate Free
Products free from phthalates, a huge class of harmful chemicals, posing a wide range of negative health impacts, that can be found in everything from household cleaners to food packaging to fragrance, cosmetics, and personal-care products.
Sulphate Free
Products free from synthetic cleaning detergents, which causes skin and eye irritation.
Cruelty Free
Manufactured or developed by methods that do not involve experimentation on animals.
Ethically Sourced
Products which are produced without compromising the people who execute the production.
Family Business
A small business owned by an individual or family as opposed to a corporation.
Made by Hand
Products/goods which are made uniquely by an individual as opposed to mass produced.
GLOBAL GOOD
We actively work to meet the following UN Sustainable Development Goals:
Good Health
Responsible Consumption And Production