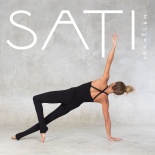 SATI CREATION
Eco sustainable clothing for yoga, dance & life. Made from certified organic cotton, bamboo & eco-textiles. Lovingly stitched. Ethical.

Add Review
SATI CREATION
SLOW, HONEST, SUSTAINABLE FASHION. 

We believe in producing high quality eco-clothing that is sustainable in every step of the production. With Sati, you choose an alternative to mass-produced generic apparel and support slow, honest, sustainable fashion. A choice that cares for the planet and the people we share it with.
OUR VALUES
Family Business
A small business owned by an individual or family as opposed to a corporation.
Made by Hand
Products/goods which are made uniquely by an individual as opposed to mass produced.
Made with Love
Products/goods that are produced with special attention and care, as if made for a loved one.
Safe and Fair Labor
ensuring that products have been developed with equitable and just labor practices.
Woman Owned Business
Businesses which are owned and operated by solely women.
GOTS Certified
Global Organic Textile Standard; certifies that.
Organic Cotton
Cotton that is verified organic at all steps between the farm and the store.
OEKO-TEX
Fabrics which are designated free of toxic chemicals and substances.
Sustainable Lifestyle
A method of living which requires one to significantly reduce their use of natural resources.
Sustainable Manufacturing
A method of manufacturing products which allows for energy conservation and has minimal negative impact on the environment and people.
GLOBAL GOOD
We actively work to meet the following UN Sustainable Development Goals:
Responsible Consumption And Production