Shatavari may very well be the "Queen of Ayurvedic Herbs" due to its cooling, feminine & nurturing energy. Considered a rejuvenative, this herbal supplement restores health & vitality to both the nervous & immune systems, while also working as an adaptogen to help the body & mind relieve stress. Shatavari is especially beneficial at providing hormonal balance to the female reproductive system & is also considered to be a demulcent, retaining moisture within the body. This super root can be used to balance both vata & pitta doshas thanks to its grounding, hydrating & rejuvenative effects. SIZE: 9 oz glass jar. Approximately 77 servings. HOW TO USE Directions: Traditional Method: In AM, mix 1/2 tsp Shatavari powder into ½ cup tepid water & drink. In PM, mix ½ tsp Shatavari powder into ½ cup warm milk, add a dash of cardamom & enjoy! Other Methods: Add into smoothies, teas, elixirs, coffee, baking & other food preparations. For other ways to include Shatavari into your daily ritual, read our blog post, Ayurvedic Breakfast Recipes for Your Dosha: Begin Your Day with Health & Wellness. Caring for your products: Store in a cool, dry place away from sunlight. Avoid contamination by keeping moisture out of the jar. Close lid tightly after each use.
SHIPPING & RETURNS:
Please expect your order to ship within 1-3 business days.
Your happiness is important to us! Therefore, we want you to be completely satisfied with your purchase.
If you are not 100% satisfied, please feel free to e-mail us at CustomerService@PaavaniAyurveda.com to make a return or exchange.
All returns/exchanges are subject to the following conditions:
-Must be returned within 30 days of the purchase date.
-Product must have at least ¾ of its contents remaining.
-Please allow up to 10 business days for an exchange or refund to be processed. Once finalized, an e-mail will be sent notifying you of the status of your refund.
-We do not refund initial shipping & handling charges for items returned.
-For any return or exchange, you are responsible for all shipping & handling costs. If the package does not reach us, we will be unable to complete the refund/exchange.
SEND RETURN TO:
PAAVANI Ayurveda
12540 Loma Rica Drive
Grass Valley, CA 95945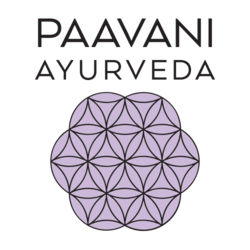 ANCIENT AYURVEDA FOR THE MODERN WORLD PAAVANI Ayurveda is an artisan line of small-batch, pure, organic health & skincare products formulated in Northern California. Handcrafted with the wisdom of Ayurveda, our products offer ancient traditions ...