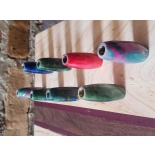 Skeleton Crew Crafts
A father son duo! The son; a creative maker, woodworker, painter, and imagineer! The father; a problem solver, pragmatic tinkerer, craftsman, and retired veteran. Together, we are "Skeleton Crew Crafts!"

Add Review
Skeleton Crew Crafts
When smokeshop meets beautiful wood-craft, you see the magic we work so hard to make for you! Rolling trays, hand lathe turned pipes, and more!
OUR VALUES
BPA Free
Products that are made without bisphenol A, a chemical found in some plastics which has been reported to cause negative health effects on the brain and prostate gland.
Non-Toxic
Products designated to be edible or non-poisonous to consume.
Ethically Sourced
Products which are produced without compromising the people who execute the production.
Family Business
A small business owned by an individual or family as opposed to a corporation.
Made by Hand
Products/goods which are made uniquely by an individual as opposed to mass produced.
Made in the USA
Products/goods produced in the United States as opposed to a foreign country.
Reclaimed Wood
Processed wood that once served one purpose and now serves another.
GLOBAL GOOD
We actively work to meet the following UN Sustainable Development Goals:
Responsible Consumption And Production