soft rose quartz with dark green aventurine accent and sacred lotus om charm gemstone bracelet *6mm gemstone beads
soft rose quartz with dark green aventurine accent and sacred lotus om charm gemstone bracelet *6mm gemstone beads
A celebration of the female spirit, the Lotus Blossom is a symbol of beauty, strength, and grace. The strong stem's connection to the flower represents an eternal, unbreakable bond between two people. Spiritually enlightening and divinely beautiful, the Lotus Blossom Charm reminds us that our relationships and shared hearts are the key to happiness. "OM" – The Sacred Sound Sounding the tone of"OM" creates a vibrational frequency of harmony in the body. The sound of the "OM" is the sound of creation and symbolizes the infinite.It connects our inner world to the greater outer and beyond, it aligns our energy and creates a feeling of openess and expansion. Traditionally spelled O-M, it is pronounced or toned A-U-M. Allowing the sound of each syllable to vibrate within. This can be done consciously feeling the "A" sound in the heart, The "U" sound in the abdomen and the "M" sound in the head. Any way you do it –The experience is connection , unity and love. "The ever present OM, is the pulse of the universe and the source of our whole being." The symbol of Ohm consists of 5 parts: 3 curves, 1 semicircle, and 1 dot. The Unconscious State: The upper curve represents the state of deep sleep or the unconscious. In this state, the subconscious is shut down and the sleeper does not dream. The Waking State: The lower large curve represents the waking state of consciousness, it connects us to our own sense of something greater and is the state of consciousness most humans are in. In this state the consciousness is turned outward and we encounter the world through our five senses. The Dream State: The Middle curve which lies between the first two curves, represents the dream state. In this state, consciousness is between deep sleep and waking and it is turned within. Pure Consciousness: The dot or Bindhi signifies the fourth state of consciousness, which is the state of pure consciousness. This is also referred to as "The Absolute State" or "Turiya." It is a peaceful, quiet state where the consciousness is focused neither inward nor outward. Illusion/Maya State: The Semicircle that separates the dot from the 3 other curves, represents "Maya" or the Illusions that prevent us from realizing or reaching the highest state of consciousness.
Types of Shipping available upon checkout

USA
* USPS First Class Shipping: $3.80 - Transit time 2-4 days.

* USPS Priority Shipping: $7.50 Transit time 2-4 days.
* USPS Express Overnight Shipping: $26.35 - Transit time: 1-2 days
Returns & Exchanges
If you're not happy, we're not happy! Kindly message us with any concerns and we will do our very best to make it right.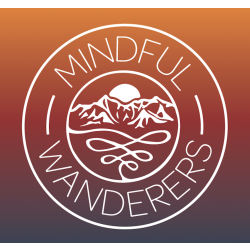 Since 2007, Christina and Patrick have shared a passion for travel, discovery and self improvement. In the fall of 2019, they made the leap to being true nomads of the road, living full time in their travel trailer with 3 dogs, exploring the North Am...