South Africa Adventure ~ MAY 19-28, 2019
South Africa Adventure ~ MAY 19-28, 2019
Get ready to join us on the adventure of a lifetime! We will be exploring some of the most beautiful sights in South Africa. This retreat is for those who want a glimpse into the treasures of the majestic land; taking you to the African bush, safari, mountains and epic coastline with daily yoga, AIReal yoga, hiking, surfing and healthy cuisine! Go outside of your comfort zone and explore lands you never thought you'd have the chance to experience. On our KwaZulu-Natl tour with professional guides we will travel between 4 accommodations allowing you to get a taste of the Big 5 of South Africa. If adventure travel is for you, join us for an all-inclusive 9 nts/10 days of yoga, clean healthy eating, safari, waterfalls, hiking, yoga and surf! http://bit.ly/SouthAfricaRetreat *Space is limited for this truly epic adventure.
Seller Questions/Answers
Hi! Could you send me a bit more info on this trip please. Where does one fly into, is it ok for single female, will one be paired up with a roommate? ......... Thank you.
- Julie Beck
Hi Julie, thank you for reaching out. I'd be happy to answer any questions for you! Here is a link with full itinerary and description to travel, accommodations, daily schedule, etc... https://form.jotform.com/82256088784166 You would fly into (DUR) Durban King Shaka International Airport. YES! It is OK for a single female. I already have 2 women traveling alone signed up. We will always have guides who our on the trip with us. They own the last location/retreat center that we end with. Please feel free to email me at [email protected] I'd love to get you all the info you need and join us in May on this epic adventure! Gratitude, Carrie
Cancellation policies vary with each retreat and are listed in detail.

All client information is kept confidential.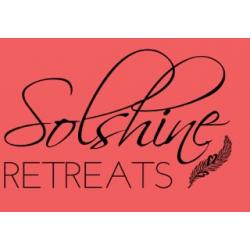 Solshine was created out of a love for giving back, helping others and creating an environment for others to heal.Mission Statement: Continue to find new, unique adventures around the world while creating a space for others to grow, transfo...