SpeakerTunity Cities Regional Speaker Leads Directories
SpeakerTunity Cities Regional Speaker Leads Directories
How would you like to have contacts for hundreds—or even thousands--of grassroots speaking opportunities in your market instantly at your fingertips? That's what SpeakerTunity Cities provides. We do the research so you don't have to. You receive name, email, phone number for the meeting, association, organization and venue coordinators that book speakers in your community. It's the VERY FIRST resource that gives speakers, experts, authors, coaches and entrepreneurs exactly what you need most....access to your audiences. --- Own Your List...Own Your Stages...Own Your Market! www.SpeakerTunityCities.com Note: if we don't have your market yet, scroll to the bottom of the page, and request your city! Include you were referred by Mindful Market!
You can cancel your monthly subscription to any of the 3 SpeakerTunity Subscription services (SpeakerTunity Speaker Leads, SpeakerTunity Radio Insider or SpeakerTunity Summits at any time.)
No refunds are issued for SpeakerTunity Cities Regional Directories , SpeakerTunity Cities Booking System or Speakertunity Cities TEDX Directory once purchased and delivered.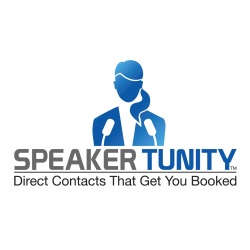 In the beginning of my life I wanted to be a sportswriter--and I did! I became one of the first women sportswriters in America at the Detroit Free Press, Los Angeles Times and Washington Post.And then I moved into PR and being the pioneer I've always...