SpeakerTunity Summits Monthly Subscription Service
SpeakerTunity Summits Monthly Subscription Service
Each month, we'll up update you on which virtual summit hosts are looking for or are open to new guest presenters...and give you their direct contact information as well. Get booked on these great list building and sales opportunities! www.SpeakerTunitySummits.com
Seller Questions/Answers
What are the terms and what is the process for canceling a monthly subscription?
- Kim Luret
You can cancel your monthly subscription to any of the 3 SpeakerTunity Subscription services (SpeakerTunity Speaker Leads, SpeakerTunity Radio Insider or SpeakerTunity Summits at any time.)
No refunds are issued for SpeakerTunity Cities Regional Directories , SpeakerTunity Cities Booking System or Speakertunity Cities TEDX Directory once purchased and delivered.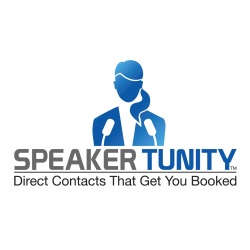 In the beginning of my life I wanted to be a sportswriter--and I did! I became one of the first women sportswriters in America at the Detroit Free Press, Los Angeles Times and Washington Post.And then I moved into PR and being the pioneer I've always...