This product is aligned with 10 values
Saint Francis of Assisi Patron Saint of Animals and the Environment A Franciscan Blessing for Our Animal Friends In Your infinite wisdom, Lord God, when You created the Universe, You blessed us with all living creatures. We especially thank You for giving us our pets who are our friends and who bring us so much joy in life. Their presence very often helps us get through trying times. Kindly bless my pet. May my pet continue giving me joy and remind me of Your power. May we realize that as our pets trust us to take care of them, so we should trust You to take care of us, and in taking care of them we share in Your love for all Your creatures. Enlighten our minds to preserve all endangered species so that we may continue to appreciate all Your creatures. Amen. Saint Francis is 100% soy wax, cotton-wicked, Reiki Blessed 14.8 oz candle crowned with Amethyst (The "All-Healing" stone), Aquamarine (Facilitates courage and encourages animals to be playful and express their joy), Carnelian (Brings calming energy to an aggressive animal), Desert Rose (Supports elderly and ill animals), Rose Quartz (Excellent for use with shelter animals, strays and those dealing with trauma) and Selenite (Enhances telepathic communication with animals Saint Francis is available in Frankincense & Myrrh, Nag Champa, Sandalwood, Golden Rose and Unscented. With proper wick maintenance (keeping the wick trimmed before lighting each time) this candle will burn up to 60+ hours! As always, 30% from the purchase of this candle will be donated to our Charity of the Month! ***Candles burn best (and longest), when you allow a wax 'pool' to extend completely to the glass, otherwise your candle will tunnel straight down and the life of your candle will diminish greatly. Ceiling fans and floor fans can also affect the way your candle burns.*** **All Mystic Pines Candle Co., candles are 100% soy wax, Reiki blessed and handcrafted in New England. Please note it may take up 4 to 6 business days to complete and ship your order.** LEGAL DISCLAIMER: All Mystic Pines Candle Co., candles are sold as curios only. Every soy wax item is lovingly hand-poured and Reiki Blessed. In no way, shape, or form do we guarantee any particular outcome. You must add your own pure love and positive intention to the products in order to make them work for you! CAUTION: Never leave a candle burning unattended. Certain candles contain crystals, herbs and pine cone that could potentially 'spark' or crack the glass. Always burn your candles and tea lights on a fireproof dish or holder away from other items. Please melt your wax tarts on a wax melt warmer specifically designed for this use.
Shipping Policy



Shipping Options



Returns & Exchanges



Cancellation



Privacy Policy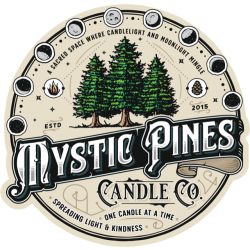 AboutWhat's so 'Mystic' about 'Pine?' The power of Pine trees have always held a magical presence in my life for as long as I can remember. My relationship with my beautiful husband began in Mystic, CT. People have thought that this is where part of ...