Summer Storm * 2 out of 3 of "The Storm Series"...Crystalline Nectar Mala
Summer Storm * 2 out of 3 of "The Storm Series"...Crystalline Nectar Mala
"The water seeks the thirsty as earnestly as the thirsty seeks the water." -Rumi "Summer Storm" * Storm Series Crystalline Nectar Mala After playing with the Gems, crystals and stones I was inspired to create "The Storm Series" ... a three Mala series that portrays the colors and power in a stormy sky. All my inspiration comes from mother earth and my spiritual journey. The concept and manifestation coming directly from nature and symbolism of the mind The mind is like the open blue sky and emotions are the stormy clouds that come and go... Gems, Crystals and Stones in this necklace/bracelet are; White and Blue Howlite, Labradorite, Garnet, Black Tourmaline, Hematite, Lepidolite, Tourmalinated Quartz, Clear Quartz, Lapis Azul with Pyrite Inclusions, and Amethyst. The Prayer Mala can be worn as a necklace or wrapped around the wrist as a bracelet. Prayer Mala is approximately 37.5 inches in length and the handmade tassel is 6 inches long. All Gems, Crystals and Stones are cleansed energetically, blessed and carefully hand selected and knotted for each Mala - no two are alike. Everything is customizable - color of tassels, stones and adornments. Please message me for details. ". . . You know the sprout is hidden inside the seed. We are all struggling; none of us has gone far. Let your arrogance go, and look around inside. The blue sky opens farther and farther, The daily sense of failure goes away, The damage I have done to myself fades, A million suns come forward with light, When I sit firmly in that world." - Kabir This Crystalline Mala was designed to assist in or help to attain: *Repel & Protect Against Negativity *Returns Negative Spells & or Attacks back to Sender and energizes person being attacked *Grounding of First Chakra with Center of Earth *Meditation Aid *Attract "Kind" Love *Original Thinking *Expands Awareness *Balancing of Yin & Yang Energies *Mental Attunement *Eliminates Stress - Anger - Rage *Increase in Energy Field Crystal and Mineral uses: *Garnet Garnet is a "stone of health", extracting negative energy from the chakras, and transmuting the energy to the beneficial state. It has been said to have been one of the stones used in the breastplate of the high priest. It has been known as a "stone of commitment" - to purpose, to others, and to oneself. The loving powers of garnet tend to reflect the attributes of devotion, bringing the love of others to expressions of warmth and understanding. It is quite helpful in moods of abandonment, allowing one to realize that surrender to discontinuity brings freshness to ones life. The garnet balances and stimulates the development and movement of Kundalini. It stimulates from both the base and crown chakras to provide for a free flow of movement, via the spinal column and the inner pathway of light. It allows one to flow with the energies available. It both monitors and adjusts the flow of energy, providing for a balanced energy field around the physical body and aligning the emotional and intellectual bodies with the perfection of "All That Is". The garnet provides a protective influence and a calming stable vitality during use. This mineral produces an energy which is predisposed to discourage chaotic, disruptive, and disorganized growth. It emits an energy which can be used to stabilize and to produce order within the mental, physical, emotional, and spiritual systems. It can be used to bring order to chaos. *Hematite It assists in the focusing of energy and emotions for balance between the body, mind, and spirit. Hematite can be called a "stone for the mind". It helps one to "sort-out" things in ones mind, and can be used for mental attunement, memory enhancement, original thinking, and technical knowledge. It also assists in the dissolution of negativity, transforming the negativity, in the dissolved state, to the purity of the universal light of love. It can be used to stimulate the desire for, and to facilitate the attainment of, peace, self-control, and inner happiness. It is also conductive to enabling one to enter into a loving relationship. It has been said to attract "kind" love. It helps one to attain a "soft" meditative state, providing for smooth grounding and bringing tranquility and emotion clarity. It facilitates balancing of the yin-yang energies, utilizing, in addition, the magnetic qualities of the energy balance the meridians within the body and to provide a stable equilibrium between the ethereal nervous system and the physical nervous system. *Howlite This mineral can be used to calm communication, to facilitate awareness, and to encourage emotional expression. It tends to combine the power of reasoning with observation and patience, providing for discernment, retentive memory and a laudable desire for knowledge, bringing progress marked with triumph. It spurs one toward the ambition to reach ones goals and assists in eliminating hesitation with respect to action. It dispels criticalness, cold selfishness, and facetious-ness, bringing both strength and income to immediate confrontations. It builds an innate decency within ones character, encourage those attributes which are the building blocks to spirituality. *Labradorite The energy of Labradorite facilitates the transformation of intuition into intellectual thought such that one can implement the instructions provided. It assists one to traverse changes, attracting strength and perseverance. It has been known as the matriarch of the subconscious mind, providing instructive sessions to the user concerning the implementation of inner messages and the utilization of same in the physical domain. It can help provide clarity to the inner sight, instilling a passionless peace of imperturbability via the annihilation of disturbing thoughts. It also symbolizes the moon and helps one to advance, without constraint, through the cycle of progression, heralding the arrival of ascension. It also symbolizes the sun, providing for vitality and for a sense of "self" during transitions, and promoting refinement of action and discernment in direction. Labradorite is said to represent the "temple of the stars", assisting one in sustaining and maintaining, while providing for the understanding of the destiny one has chosen. *Lepidolite Lepidolite is recognized as a "stone of transition" helping one through situations of variability in this life and assisting in the restricting and reorganization of old patters. It further serves to gently induce change and to allow for smooth passage during change. Lepidolite can induce the attribute of self-love, bringing a child-like love and acceptance to the user, while allowing for the aspect of trust to flourish.
Processing time

The time I need to prepare an order for shipping varies.  For details, see individual items, or contact me directly.
Shipping Policy: Customs and import taxes
Buyers are responsible for any customs and import taxes that may apply. I'm not responsible for delays due to customs.

Shipping Options
I offer 2-day priority shipping with tracking.  Please contact me if you need another option.

Returns & Exchanges
I gladly accept returns and exchanges.  Just contact me within: 14 days of delivery.  Ship items back to me within: 30 days of delivery.  Buyer is responsible for return shipping costs.  If the item is not returned in its original condition, the buyer is responsible for any loss in value.
Cancellation
Crystalline Nectar, reserves the right at anytime to cancel an order.  If we have received payment, a refund for the the full amount of the payment received, including any shipping, will be Initiated at that time for that order.
Disclaimer Notice
Any information that may be found anywhere on this site is not presented as a substitute, nor intended to be a substitute for medical advice, treatment or diagnosis.  This site does not dispense medical advice or prescribe the use of any technique as a form of treatment for medical problems without the advice of a physician, either directly or indirectly.  In the event you use any of the information in this site for yourself, the publisher accepts no responsibility for your actions.  Any information that may be found anywhere on this site is not presented as a substitute, nor intended to be a substitute for medical advice, treatment or diagnosis.  Never disregard advice from your medical professional or delay seeking medical advice because of anything you may have read on healing-crystals-for-you.com.  Always seek the advice of your medical physician, or other medical professional or qualified health care provider with any questions that you might have about a medical condition.  In no event shall Crystalline Nectar, content providers or licensees be liable for any indirect, consequential, special, incidental or punitive damages related to the content or to any omissions or errors in the content of this site.
Use of this site confirms that you accept all risks and responsibilities concerning your actions as a result of using any information provided on or by this site.
Privacy Policy
All personally identifiable information is held in strict confidence, unless required by law to divulge that information.
Use of Information – Personally identifiable information such as name, email address, phone number, postal address, and IP address, is used to process purchases, to contact individuals regarding purchases, special offers, new items, and for fraud screening, security, legal, or other legitimate business purposes, by Crystalline Nectar.

Financial information such as credit card numbers or other items are only transmitted to my payment processors to process purchases of services or goods, or as required by law.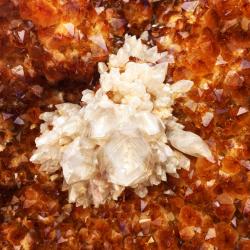 AboutEver since I could walk I have ran around picking up stones and rocks. I was drawn to their beauty and their direct embodiment of the earth's magical forces. Each stone had a story and a connection to a moment. Naturally, twenty years ago I i...