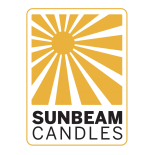 Sunbeam Candles
Sunbeam is a green, socially responsible candle crafting company in Ithaca, NY with an emphasis on 100% pure beeswax.

Add Review
Sunbeam Candles
Save 15% off your entire first order with Sunbeam using code SUNBEAM15


Sunbeam is a green, socially responsible candle crafting company in Ithaca, NY with an emphasis on beeswax. Our shop is powered by 100% renewable energy (solar and wind), we ship through the UPS carbon-neutral program and no plastic is used in our packing materials. Sunbeam is a certified living wage employer in our county. Our candles are handcrafted using only 100% pure essential oils, lead free cotton wicks and non toxic, eco-friendly dyes. We truly make earth-friendly candles!
OUR VALUES
Alcohol Free
Food and beverage created without the presence of alcohol.
Aluminium Free
Cosmetic and personal care products free of aluminum powder, which is used for pigment and thickening products
Bacteriacide Free
Made without chemical substances that prevent bacteria growth; bactericide is found in antibiotics, antiseptic, and disinfecting products.
BPA Free
Products that are made without bisphenol A, a chemical found in some plastics which has been reported to cause negative health effects on the brain and prostate gland.
Casein Free
Products not containing casein, one of the principal proteins found in dairy.
CFC Free
Products not containing carbon, fluorine, or chlorine, compounds often found in refrigerants and cleaning materials.
Chlorine Free
Products made without the presence of chlorine.
Gluten Free
Products not containing gluten, a combination of proteins found in wheat which is known to cause sickness in those with Celiac disease.
GMO Free
Products made without the presence of organisms that have been either created or altered in a laboratory.
Hypoallergenic
Products, especially of cosmetics and textiles, that are relatively unlikely to cause an allergic reaction
GLOBAL GOOD
We actively work to meet the following UN Sustainable Development Goals:
Affordable And Clean Energy
Decent Work And Economic Growth
Responsible Consumption And Production
Climate Action