Taheebo Wellness Tea 1lb Pouch - Pure Pau d'Arco Inner Bark
Taheebo Wellness Tea 1lb Pouch - Pure Pau d'Arco Inner Bark
This product is aligned with 10 values
Pau d'Arco Bark Fine Tea Grind Taheebo Bark Fine Tea Grind . ★ WHAT IS TAHEEBO TEA? Taheebo/Pau d'Arco is a large canopy tree native to the Amazon rainforest and other tropical parts of South America. It grows to 30 meters high and the base of the tree can be 2-3 meters in diameter. . Taheebo Tea has been used for centuries by the indigenous people of South America, with reports predating the Incas. It was favoured for its anti-inflammatory, antimicrobial, anticancerous and antileukemic properties and employed to accelerate wound healing, relieve pain, support and boost the immune system, circulation and digestion, among others. . Read more about the health benefits of Taheebo Tea: https://taheebo-tea.com/pages/about-taheebo-tea . . "The bark and wood of the tree are used externally and internally for arthritis, pain, inflammation of the prostate gland, fever, dysentery, boils and ulcers, and various cancers. One of the easiest ways to use Taheebo is by consuming a tea made from the inner bark…​" By Christine Ruggeri, CHHC – Read More on DrAxe.com . . ★ It's what's inside (the bark) that counts Modern research has documented up to 38 phytonutrients within Taheebo tree bark including the highly potent phytochemicals lapachol, naphthoquinone and quercetin. These powerful antioxidants have demonstrated strong anti-viral, anti-fungal and anti-bacterial effects, making each cup of Taheebo Wellness Tea a powerful immune boosting brew. . ★ DETAILS: ⤐ Our Taheebo Wellness Tea contains pure inner bark of the Tabebuia impetiginosa/avellanedae species of the Taheebo tree (aka Pau d'Arco tree) from Brazil. . ⤐ Our tea is prepared in a fine tea grind, not commonly found on the market today. When brewed properly, this grind brews a stronger and more potent Taheebo Tea than preparations made with the cut and sift (C/S) styles of tea. Therefore, you need to use less bark to prepare a concentrated tea. Taheebo Tea is caffeine-free and sugar-free. . ⤐ A 1lb bag of Taheebo Wellness Tea brews approximately 100 cups of Taheebo Tea (25 quarts/6+ gallons of tea) . ⤐ Also Known As - Pau d'Arco, ipê, ipê roxo, lapacho, Tabebuia impetiginosa, Tabebuia avellanedae. . ★ 10% GIVING PLEDGE: We believe in giving back and donate 10% of profits to organizations committed to fostering compassion, unity and well-being. . ★ SUSTAINABILITY: Everything that comes with your Taheebo Wellness Tea is compostable or recyclable. Our tea pouches and labels are made from 100% compostable materials and can be safely composted like any other organic waste. Our shipping pouches, boxes and labels are made from 100% recycled content. Please consider first reusing or repurposing your packaging. . ★ TAHEEBO TEA BREWING INSTRUCTIONS: 1. Measure out 1 quart (liter) of spring water and add to a stainless steel or glass pot. 2. Add 3 tablespoons of Taheebo Wellness Tea to the water. 3. Bring liquid to a full boil with a lid on the pot. 4. Reduce heat and cook at a gentle rolling boil for 25 minutes. 5. Let cool to room temperature. 6. Pour through a strainer into glass bottles or pitchers. Cap and refrigerate. If you are planning to drink your Taheebo Wellness Tea within 3 days, refrigeration is optional due to its strong, natural anti-bacterial properties. When stored in the refrigerator, your tea will remain fresh for up to 8 days. . We like to prepare 3 quarts at a time, storing in the refrigerator for easy drinking throughout the week. Follow the same instructions above, using 3 quarts of water and 9 tablespoons of Taheebo Wellness Tea.
Shipping Policy
We ship all orders within 1 business day via USPS priority or UPS ground.

Shipping Options
We offer free shipping to the Unites States of America.
For international orders please visit: https://taheebo-tea.com

Returns & Exchanges
Any open pouches of Taheebo Wellness Tea cannot be returned or exchanged.
Unopened and undamaged pouches may be returned at the customer's expense for a $28 refund per pouch.

Cancellation
Orders may be canceled until the items have shipped. Once shipped, customers can refuse the package - return to sender - or return it to us for a partial refund. Undamaged and unopened pouches will be refunded $28 per pouch.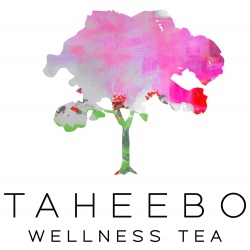 We were introduced to Taheebo Tea/Pau d'Arco Tea shortly after Julien was diagnosed with an advanced form of cancer that quickly spread to various parts of his body.He immediately added three cups of Taheebo Tea to his daily regimen, then increased t...