The Girl with Waterfall Eyes
The hypnotically told tale of The Girl with Waterfall Eyes takes readers and listeners on a journey with a young girl as she who walks the earth spreading light and happiness through her eyes. When night comes, she loses her balance and falls off the planet, somersaulting through the Universe before returning safely home at dawn. Brilliantly illustrated, this engaging story invites children to see beauty in themselves and others. The book ends with Kaleidoscope Eyes, a short activity to help children gaze with love and from their heart into the eyes of others. Conscious Bedtime Stories are a collection of stories with wise and lovable characters who teach core life values to your children. Each of the 12 Conscious Bedtime Story Club books invites its readers to engage in mindfulness practices, beginning with Snuggle Breathing, which helps parents and children alike to share an experience of relaxation, presence, and connection to each other and to the story. Each story ends with reflective activities and exercises to help children assimilate the lessons the stories have presented. Because the last 20 minutes of every day are precious, these books use this important time to help children and parents grow consciously together in mind, body, and spirit.
Shipping Policy
Orders over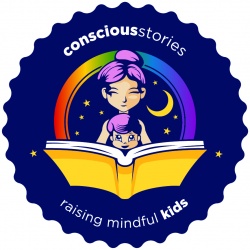 Click here to watch videoAndrew Newman - The StorytellerI love all things creative and spiritual, especially kids! I've now written 12 books that I hope help families connect at the end of those hectic days filled with growing, loving, and learning...