The Ultimate Eco-friendly starter kit - gift set - organic set - bulk bags - mesh bags - makeup pads - natural scouring sponge
The Ultimate Eco-friendly starter kit - gift set - organic set - bulk bags - mesh bags - makeup pads - natural scouring sponge
READ CAREFULLY BEFORE PURCHASING The perfect eco-friendly starter kit! The perfect eco-friendly gift set! *****The Ultimate kit: 2 produce/bulk bags (medium & large), 3 mesh bags (small, medium & large), 1 kit of makeup remover/cleansing pads, and 1 scouring sponge. The products: *****The produce/bulk bags: Eco-friendly reusable bags for your produce and bulk food/other. All handmade with 100% organic cotton fabric. The tags can be use to hang your bags. Available in 2 different sizes: Medium: 8" x 10" Large: 10" x 12" *****The mesh bags: Eco-Friendly mesh bags, reusable and made with 100% organic cotton. As it is knitted, it can stretch a lot! The tags can be use to hang your bags. There is 3 different sizes for the mesh bags: Small: 6" x 9" Medium: 8" x 10" Large: 12" x 14" *****The makeup remover/cleansing pads: Eco-friendly cleansing wipes, zero waste face wipes, in organic cotton. One side is soft, and the other offers a light exfoliation. Includes 1 set of 10 wipes in these dimensions: 3.5" diameter *****The scouring sponge: Eco-friendly scouring sponge handmade with crocheted natural linen. The linen itself is naturally hypoallergenic. The sponge can be used on any surface. The sponge's dimensions are 4" x 4" approximately. All the products are easy to clean: machine wash or hand wash in cold water, let air dry. All the products (except the scouring sponge) are made with: 100% Organic Cotton - even the thread is in 100% organic cotton! Scouring sponge in 100% linen. All these products can be bought separately. All made with care in Montreal!
Returns and exchanges
Unfortunately we do not offer return or exchange on regular goods, by its status of article made in an artisanal way. If you are in a special situation, we will be happy to help you. Contact us for further details.
Shipping
We are not responsible for postage delays. We need a period of 1 to 5 working days for the preparation of your article(s). For more informations on the delivery of your item, do not hesitate to contact us!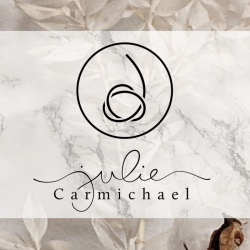 Raised in a family of weaving, knitting, crochet and sewing culture, Julie developed from an early age her artistic personality and interest in textiles. As a teenager, she learned sewing and creating clothes. She developed a passion that lead to stu...