The Blissful Dog Relax Dog Aromatherapy
The Blissful Dog Relax Dog Aromatherapy
This product is aligned with 4 values
Is Your Dog Terrified By Thunder? Frazzled By Fireworks? It is heartbreaking to see our normally calm dogs become terrified when it thunders or fireworks pop. Our frightened dogs often shake, tremble and even drool with fear. Just as many people are terrified of public speaking, spiders, snakes or flying, our dogs are often triggered by thunderstorms, fireworks, being alone and traveling. Relax Dog Aromatherapy spray uses a custom blend of safe essential oils to gently calm your dog's anxiety. Relax is NOT a doggie downer, it won't sedate them. Relax CAN help take the edge off and make a stressful time more tolerable. Of course, not every dog will have the same response. Your dog's degree of anxiety and personality type should be taken into consideration. Relax Dog Aromatherapy Details • Combo of .45 oz Plastic Roll-On & 2.7 oz Aluminum Spray Bottle • Your Choice of Dog Breed Label (over 100 offered) • Complete Directions Brochure • Ground shipping included USA only • Expedited Shipping & International shipping offered Ingredients • Cedarwood grounds & reduces panic • Cypress soothes frazzled emotions • Frankincense quiets anxiety • Lavender classic calming • Vetiver stress relief • Bergamot uplifts and balances • Roll-on carrier - organic jojoba oil, grapeseed oil and sweet almond oil • Spray carrier - distilled water and emulsifier Available in a spray and roll-on bottle combo for maximum effect. Using Relax Dog Aromatherapy • Begin application of Relax prior to, or as soon as possible after onset of trigger • Reassure your dog in a calm manner • Reapply Relax as needed • Use roll-on and spray together to amplify results Using Relax Roll-on • Roll on inside dog's ears or on belly • Roll onto your hands and pet your dog • Reapply as needed Using Relax Spray • Shake Relax gently before using • Spritz over dog's body - ears back • Or spray onto hands and pet dog • Or spray on washcloth or paper towel and rub dog • Spray beds, crate & inside vehicle • Reapply as needed
Shipping Policy
• Your order is carefully packed in a padded envelope or box.
• It's sent via USPS, UPS or FedEx
• We ship FAST - Your order is shipped with 24-48 hours, sometimes same day
• Once it leaves our hands we have zero control over what the carrier does with our/your stuff. But we will not leave you hanging, contact us with any shipping issues.
• Make 100% sure you entered your correct address
• We never type or retype your address info, it is 100% computer generated from your input
• If you catch incorrect info email or call us. Use ADDRESS ChANGE as subject
• We ship FAST
• You receive one email thanking you for your order (My Meemaw told me to always say Thank You)
• The next email will have the tracking info
• Tracking info is generated after the package is scanned
• We need an email address or cell phone number to send tracking
• Check spam folders etc if you do not get tracking info within 48 hours of order
What To Do If Tracking Says Package Was Delivered & You Don't Have It
• Don't despair! We have options!
• First - Check with neighbors, family, door person, etc
• Sometimes packages are marked as scanned, before the driver leaves and they don't get them all delivered. Give it another 1-2 days.
• This really works. Print tracking info out, leave in in your mailbox with a note asking for their help. Get them on your side!
• If you have no luck with these steps, contact us.

Shipping Options
• We offer USPS, FedEX and UPS
• Our shipping costs are your actual shipping costs (rounded off)

Returns & Exchanges

It's simple. We want you to be happy, no...make that ECSTATIC with your stuff you get from us.
We want you posting on Facebook, Instagramming away and telling strangers on the street about your dog's nose, paws and elbows looking great.
IF, heaven forbid, you are unhappy, contact us first. Let's figure out what it will take to make you happy and take it from there. I had a mini panic attack just thinking about anyone being unhappy with our products. Give us the chance to regain your confidence and business.
Bottom Line - we accept returns, exchanges, we will work with you. We will not leave you upset, if at all possible. We do ask that you give us a chance to make it right.
We're required to have specific times etc. So, we offer an unlimited 90 day return policy. Just contact us and we'll fix it, if humanely possible.
Telephone Monday-Saturday 9am until 7pm Central Time 1.855.DOG.BLISS

Cancellation

• If your order has not shipped, we will gladly change or cancel it.
• Contact us ASAP, as we ship very quickly
• Call or email and use CANCEL ORDER as subject

Privacy Policy

We never, ever, EVER share your personal info with anyone. Sensitive information entered online is encrypted and transmitted using SSL (Secure Socket Layers) technology provided by Mindful Market's merchant services companies. I promise, your email address is never, ever shared with anyone.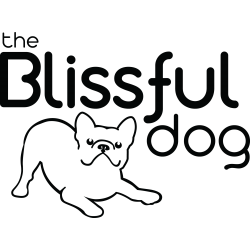 For over twenty-five years I bred and showed Top Winning, Number One, fancy, schmancy French Bulldogs. As you know, show dogs have to look and feel great to bring home the big ribbons and French Bullodgs are notorious for having dry, crusty noses. Th...