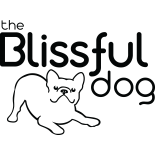 The Blissful Dog® Inc.
Handcrafted for your blissful dog's mental and physical well-being

Add Review
The Blissful Dog® Inc.
Welcome to The Blissful Dog! What began as a search for something to use for my French Bulldog's dry noses in 2002 has led to an international business with a full crew of dog-loving employees.

Based in far, frozen (science fiction cold) Minnesota on our 40-acre farm, we love creating products that help your dog look and feel their best! We handcraft each of our butters and aromatherapy products right here on site. Our shampoo line is crafted by trusted partners, and friends, in Kentucky.

We take great pride in the quality of our products, shipping fast and most of all, our dedication to your dogs. Plus, we have a lot of fun while doing it all. We share some of the whimsy and fun in our labels, product names and artwork.
OUR VALUES