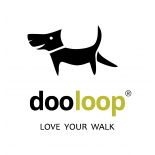 the dooloop
Convenient, Easy & Hands-Free, Maine Made, Leash Accessory for Holding Bags of Dog Poo Holder. Invented by a Mom, Woman Owned. Living the Dream.

Add Review
the dooloop
The dooloop is an original easy to use innovation will change the way people deal with dog poop while out hiking or walking. Designed out of need when two basset fosters came into our life, it's a lemons/lemonade story.

The dooloop is now a company, and an immersive MBA by fire experience. Woman owned, it's been fun to make decisions based on values, not just the bottom line. Manufacturing in Maine, using compostable plastic which is more expensive (but nothing is more expensive to the planet than cheap plastic), printer is wind powered, assembly costs are factored in to be a decent wage - and still under $10.

Thank you for shopping values and also good design!