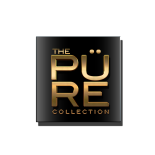 The PÜRE Collection
PRESTIGE SKINCARE The Power of Botanicals

Add Review
The PÜRE Collection
The PÜRE Collection sets itself apart from others as we choose not to use the same common ingredients found in the skincare industry today,  instead we focus on the extraordinary, rarer and sustainable as our research has found that these ingredients often contain multiple, and higher percentages of properties that work in harmony to produce incredible skin benefits.

We are the only truly Prestige Conscious skincare brand that is Certified Organic to COSMOS Standard by Ecocert, Vegan and members of PETA,  Cruelty Free International and The National Ingredient Resource Center and great believers of giving back through our support of various charities via our rewards programme

Our award-winning formulations provide actual treatment for healthy aging skin with proven efficacy.

100% transparent, reflected in the fact that we formulate in-house, we never out-source, and do not hide behind vague terminology as 'fragrance', 'scents' or 'perfume' that many manufacturers do. We list exactly what is in the bottle so you know exactly what you will be applying.


OUR VALUES

Animal Welfare Approved

Certified Vegan

EcoCert

Fair Labor Practices

Leaping Bunny

USDA Organic

Alcohol Free

Aluminium Free

Bacteriacide Free

BPA Free
GLOBAL GOOD
We actively work to meet the following UN Sustainable Development Goals:

Good Health

Quality Education

Gender Equality

Responsible Consumption And Production

Partnerships For The Goals
OUR CERTIFICATIONS
Certificate in Aromatherapy