Light, Medium & Dark Roast Coffees From Unleashed Coffee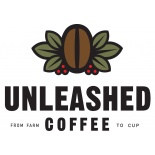 Unleashed Coffee
Positively Impact Coffee Farmers With Every Sip.

Add Review
Unleashed Coffee
Together with the farmers, we control and preserve the coffee's quality from inception to indulgence, from farm to cup.
OUR VALUES
No Added Sugar or Sweeteners
Food products in which no sugar besides sugar from natural ingredients were added.
No Artificial Ingredients
Food and beverage free of ingredients and flavoring which do not occur organically in nature.
No Preservatives
Food and beverage free of substances which delay or prevent decay.
Gluten Free
Products not containing gluten, a combination of proteins found in wheat which is known to cause sickness in those with Celiac disease.
Cruelty Free
Manufactured or developed by methods that do not involve experimentation on animals.
Empowers Women
Organizations, companies, and spaces which support gender equality and women's rights.
Ethically Sourced
Products which are produced without compromising the people who execute the production.
Family Business
A small business owned by an individual or family as opposed to a corporation.
Made with Love
Products/goods that are produced with special attention and care, as if made for a loved one.
Sourced Directly From Farmers
Food that is sourced directly from the farmers that grow it.
GLOBAL GOOD
We actively work to meet the following UN Sustainable Development Goals:
No Poverty
Gender Equality
Reduced Inequalities
Sustainable Cities And Communities