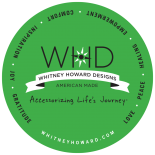 Whitney Howard Designs
Whitney Howard Designs is an eco-friendly company that creates meaningful and inspirational pewter jewelry in Los Angeles, California.

Add Review
Whitney Howard Designs
Whitney Howard Designs is an eco-friendly company that creates meaningful and inspirational pewter jewelry in Los Angeles, California.

The WHD collection represents the many aspects of life's journey. We create tangible, wearable objects that remind us of the people and things we love, the inspiration and connection we Seek.

With every blessing ring, quotable cuff and promise ring we create, we make a conscious effort to put integrity first. Rather than being absorbed with ever-changing trends and fads, we remain focused on the idea of creating sentiments that last and that we are always "paying it forward."

We design with intention, so the pieces not only have a positive impact on the recipient, but on the environment as well. That's why we only use recycled, repurposed and organic materials to make our Made-In-America jewelry. We want you to feel as good about our products as we do, and to share that positive and inspirational energy with family and friends.

Whether you are shopping for yourself or are searching for a meaning gift for someone you love, we invite you to browse our collection of lead-free pewter jewelry and accessories and find inspiration.

We wholeheartedly believe that our jewelry and accessories make the perfect gift for anyone.

OUR VALUES
Empowers Women
Organizations, companies, and spaces which support gender equality and women's rights.
Family Business
A small business owned by an individual or family as opposed to a corporation.
Made by Hand
Products/goods which are made uniquely by an individual as opposed to mass produced.
Made with Love
Products/goods that are produced with special attention and care, as if made for a loved one.
Made in the USA
Products/goods produced in the United States as opposed to a foreign country.
Plants a Tree
Moving tree seeds to specific locations for forestry and other purposes.
Supports Charity
Organizations/businesses that show consistent financial and/or other support to select charity/charities.
Woman Owned Business
Businesses which are owned and operated by solely women.
Pre Consumer Recycled
Post Consumer Waste; Paper made from 100% recycled material.
Post Consumer Recycled
Paper made from 100% recycled material.
GLOBAL GOOD
We actively work to meet the following UN Sustainable Development Goals:
Quality Education
Sustainable Cities And Communities
Climate Action