Wholeistic Healing Wellness clinic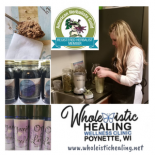 Wholeistic Healing Wellness clinic
Wholeistic Healing was founded on the principles of balancing mind, body, and spirit to live your best life! We organically grow our herbs and botanicals in our own gardens! Our Products are always hand harvested, hand distilled, and hand made with LOVE.

Add Review
Wholeistic Healing Wellness clinic
OUR VALUES
USDA Organic
Certification ensuring the organic status of agricultural products.
Gluten Free
Products not containing gluten, a combination of proteins found in wheat which is known to cause sickness in those with Celiac disease.
High Efficiency Compatible
Safe for Septic Tank
GMO Free
Products made without the presence of organisms that have been either created or altered in a laboratory.
1% for the Planet
Organization which helps to protect the environment and its resources through the donation of 1% of a company's sales.
Compostable
Objects which are capable of breaking down and returning to the natural environment without any negative impact.
Biodegradable
Objects which are capable of decaying and potentially contributing to a given ecosystem.
Cruelty Free
Manufactured or developed by methods that do not involve experimentation on animals.
Empowers Women
Organizations, companies, and spaces which support gender equality and women's rights.
GLOBAL GOOD
We actively work to meet the following UN Sustainable Development Goals:
No Poverty
Zero Hunger
Good Health
Quality Education
Gender Equality
Clean Water And Sanitation
Affordable And Clean Energy
Decent Work And Economic Growth
Reduced Inequalities
Sustainable Cities And Communities
OUR CERTIFICATIONS
Registered Aromatherapist (RA)
Institute for Integrative Nutrition
Herbalism- Master of Science
Homeopathy - ND
Naturopathic Doctor
Quantum Touch Practitioner
Reiki Master Instructor