Yuzu with Roasted Brown Rice Bar
Yuzu with Roasted Brown Rice Bar
Delicate floral candied yuzu pairs beautifully with subtle nutty crunchy roasted brown rice, blending beautiful flavors and textures over rich 70% dark chocolate. Enjoy with a cup of genmaicha or your favorite cheese.
Shipping Policy
Our production facility is located in Portland, Oregon. Luckily it is cool here much of the year, but that is not the case in many other places in the U.S. We adjust our shipping days depending on the weather in Portland and the expected shipping route and destination of your order. During cool months, we ship Monday through Friday. During warmer months, we ship Monday through Wednesday and typically add a small ice pack to the shipment. If temperatures are expected to be higher than ideal for chocolate shipping, we may try to contact you to see if you wish for us to wait until cooler weather blows in or to select an expedited shipping method, which will have an additional fee. We also reserve the right to hold your order if we think it is too hot to ship. In our experience, shipping overnight or two-day air in warmer weather ensures your chocolate will arrive safe, sound and in solid form.
Return Policy
Because we product a food product, we do not accept returns. If your order arrives damaged due to no fault of your own, we will replace it if you provide photos showing the damage.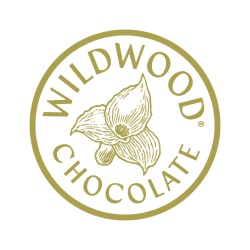 AboutAt Wildwood® Chocolate, we source the finest ingredients and always take the time to craft by hand. Our unique flavor combinations, luscious textures, and graceful balance are inspired by nature, creating an exceptional chocolate experience for...