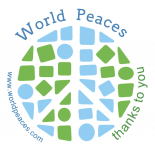 World Peaces
We collaborate on creations from Africa to the Americas. We are all World Peaces, thanks to you!

Add Review
World Peaces
OUR VALUES
Fair Trade Certified
Certification ensuring the use of a method of economic trading which considers the producers of a product.
Fair Trade Federation
Organization that supports businesses in committing to the many principles of fair trade.
Empowers Women
Organizations, companies, and spaces which support gender equality and women's rights.
Fair Trade
Trade between companies in developed countries and producers in developing countries in which fair prices are paid to the producers.
Post Consumer Recycled
Paper made from 100% recycled material.
Recycled Aluminum
Naturally occurring element which is often to products such as deodorant; which is known to clog pores and prevent sweat.
Recycled Glass
A solid substance created through the heating of liquid sand.
Recycled Packaging
A method of packing and shipping items which works to reduce waste and employs biodegradable materials as opposed to others.
Reclaimed Wood
Processed wood that once served one purpose and now serves another.
Upcycled Cotton
Cotton that was once used for one purpose and is manipulated to be used for another purpose.
GLOBAL GOOD
We actively work to meet the following UN Sustainable Development Goals:
No Poverty
Zero Hunger
Good Health
Quality Education
Gender Equality
Decent Work And Economic Growth
Industry, Innovation And Infrastructure
Reduced Inequalities
Sustainable Cities And Communities
Responsible Consumption And Production