World Coffee-World Community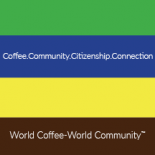 World Coffee-World Community™
We believe business has the power to change the world; and with your help, we are working together to create a world in which the wellness of each and every person is valued and celebrated from the farmers who grow our coffee to our patrons who enjoy every bean and every cup.

Add Review
World Coffee-World Community™
World Coffee-World Community™ is the next evolution of business. We call ourselves a Social Transformation Business© — a business created for the purpose of facilitating positive social transformation.

We love sharing about what it means to be a Healthy Global Citizen© and, of course, our coffee!

A portion of each purchase goes to building new World Community centers for social transformation in communities around the world. 

The future design of World Coffee-World Community™ includes the creation of a new World Community center. It will be the next evolution in public space for the facilitation of social transformation and community wellness. As our company grows, so does our capacity to build our flagship center and other community centers around the world. 


Be a part of the World Coffee-World Community™ today and help us to build a healthy world for us all!

OUR VALUES

Fair Trade Certified

USDA Organic

Compostable

Empowers Women

Ethically Sourced

Fair Trade

Made with Love

Supports A Developing Country

Sustainably Farming

Woman Owned Business
GLOBAL GOOD
We actively work to meet the following UN Sustainable Development Goals:

Peace, Justice And Strong Institutions