Zen Necklace with Aquamarine Swarowski Crystal to Help Us Look Beyond the Immediate Environment
Zen Necklace with Aquamarine Swarowski Crystal to Help Us Look Beyond the Immediate Environment
This product is aligned with 6 values
Sterling Silver Zen Necklace with Aquamarine Swarovski Crystal, 30 Inch long. Embrace the Zen, become One with Nature, Zen the Moment... Zen the Day, Zen the Energy, Zen Your Way until you reach the Zen State of Mind. Blue is the color of distance - oceans, skies, the heavens. The energy of blue helps us to look beyond the immediate environment, expanding our perceptions towards the unknown. Blue is the color of Divinity. It brings: Peace and understanding, enhances the easy flow of communication with yourself or others, calms and relaxes. While you are wearing your crystals as jewelry, the crystal vibrations work continuously on your imbalances. This unique necklace features combined variety of sterling silver chains, a stunning Aquamarine Swarovski crystal pendant, with separately moving silver ring and a hand stamped "ZEN" charm with river crystal. Made with Love in California.
Here we gathered the most Frequently Asked Questions. Should we did not answer yours, please email us at Szilvia@GoghJewelryDesign.com


Q: Can I get my order gift wrapped?
A: Yes. Upon request we can gift wrap items in your order for an $5.00
You will be able to select Gift Wrap at Checkout.


Q: Can I order an item in a different size than it is listed (shorter/ longer)?
A: Yes, just please send us an email with your request and we will be happy to accommodate!


Q: Do you ship internationally?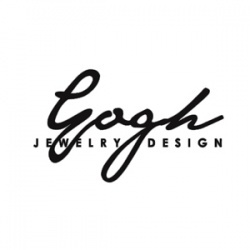 I started my jewelry design business 20 years ago because I love beautiful things, but as an active woman, I couldn't find any silver jewelry that was both meaningful and functional - so I started creating jewelry myself. I wanted to wear jewelry...