This product is aligned with 5 values
Handmade bath bomb infused with epson salts and nourishing oils Ingredients: Sodium Bicarbonate (Baking Soda), Citric Acid, Epson Salts, Cream of Tartar, Hemp Seed Oil, Vanilla Mint Fragrance Oil, Polysorbate 80, Mica Powder (mineral colorant), Activated Charcoal (natural colorant) How to use: Fill bathtub with hot to warm water. Remove all wrapping. Let bath bomb float in water. Relax and Enjoy! Please do not eat and supervise around children. Do not leave children in bathtub unattended.
Shipping Policy



Shipping Options



Returns & Exchanges



Cancellation



Privacy Policy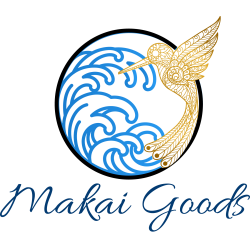 Makai Goods is an online boutique and handmade candle shop based in Kissimmee, FL. Owned and operated by a disabled woman veteran. Makai Goods has dedicated to provide the best and highest quality in their products and to make candles that are less t...